People don't just talk about their first day at a new job, they broadcast it. With global social media usage increasing at startling rates in 2020, the coronavirus pandemic has all but ensured that your new employees will share their early experiences of your organisation with their friends and followers, especially if they're being onboarded remotely. And if they're really happy, they'll keep talking about it in the weeks and months to come. This is your chance to turn your latest hire into your newest brand ambassador.
Social recruitment is all about how your in-house brand ambassadors talk about you, and they are able to give your brand visibility in spaces where personal recommendations hold the most sway. According to recruitment site Monster, 65% of people would consider a new job opportunity if they heard about it through a personal connection, and studies by Nielsen show that 92% of people trust recommendations from friends and family over any other kind of marketing.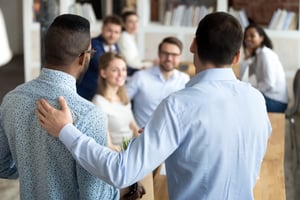 However, Glassdoor found that only 7% of companies have a strategy in place for social recruitment. They also discovered that organisations with a strong onboarding process improved new hire retention by 82% and productivity by over 70%. In other words, making sure your employees' first days go well has the dual benefit of boosting your social outreach and ensuring you retain a happy, productive employee long term.
So, what can you do to give a stellar first impression that will inspire your new recruit to say great things about you to their networks?
1. Start onboarding before day one
Make sure your new hire has everything they need, knows how to log in, where to go (if they're starting on-site), what time to be available, and what to expect on their first day. Send a friendly email a few days before they start telling them how excited you are to welcome them to the team.
2. Create an Instagram-worthy first impression
Arriving to a desk with equipment set up and ready to go is a good start, but what if you're onboarding remotely? Then it's even more important to make sure your new employee has everything they need delivered to their home or working space. If you can, send them a first day breakfast delivery and some branded swag. Add some flowers or a jar of sweets, and maybe have the team write a welcome note to really personalise their experience. If you want to go the extra mile, you could make a sign with your logo and a #firstday or #newjob hashtag your new colleague can hold up in a selfie!
3. Give your new hire a shout-out on your internal communication channels
Whether you use Slack, Workplace, an intranet, or just an email, make sure your colleagues know there's a new-starter on the team. Share the news with a photo (a video is even better!) and a short bio. Your new hire should feel like a star everyone's eager to hear about on their first day.
4. Arrange a welcome lunch
Even if you can't be together, make sure you do something a bit special for your new hire's first lunch. Send a food delivery, arrange an in-person or online meet-up with the team, and make sure your new team member doesn't spend their first lunch alone at their desk. Follow this up by making sure they have someone to lunch with every day that first week, whether face-to-face or online – it's a great chance to help them get to know their new colleagues.
5. Create the first-week calendar thoughtfully
Take some time to think about your new hire's personality. Are they very outgoing? A bit of an introvert? Use what you learned in the recruitment process to decide the right balance between meetings and quiet learning/reading time. And be sure they know what they should be doing in between; there's nothing worse for new-starter morale than thumb-twiddling – they'll likely spend that time on social media telling everyone they're already bored!
6. Book a meeting with your resident party person
Every office has at least one: that person who can get everyone out for after-work drinks on a Friday or convince them to sign up for a fun run. Introduce these naturally fun, friendly people to your new hire. This adds more of a personal touch to socialising than just telling them you have a Christmas party every year.
7. Make sure there are inspiring tasks on their to-do list
There are always a lot of routine tasks to be done in those early days, but you can help keep your new employee awake by throwing in some more fun tasks as well. But! Bear in mind that social tasks may be stressful for shy people, so plan this list in a sensitive, personalised way.
8. Assign a first-week buddy
This isn't just about being social – though that's a nice side effect. HCI found that 87% of organisations that assign a buddy during the onboarding process say that it has been an effective way to speed up new-hire proficiency.
9. Streamline the routine tasks by going digital
You probably recruited this person using some combination of digital tools; perhaps your entire recruitment process is digitalised. Now's your chance to reinforce your commitment to optimising your staff's time by automating as many of your routine onboarding tasks as you can.
Gallup found that only 12% of employees think their organisation does a great job of onboarding new employees. This should come as no surprise when you learn that HCI reports that more than half of organisations focus onboarding on processes and paperwork.
By embracing digital onboarding, you can reduce time spent on routine administrative tasks as well as proving that you are a future-minded, flexible employer. Digitalising onboarding tasks will free up time and energy that everyone involved can better spend on valuable, meaningful activities. When your new hire feels welcomed and valued, they will go on to share their thoughts about you with their friends and followers, now and in the future.
To find out more about how digitalisation of your entire employee lifecycle can positively impact your business, check out our ebook, Your Guide to Digital Recruitment, Onboarding and Offboarding.