In partnership with CatalystOne, a leading HR software vendor in the Nordics, Nordnet digitalised their HR processes throughout 2017. And today the hard work payed off as Nordnet and CatalystOne were announced as winners of "HR System Implementation of the Year 2018".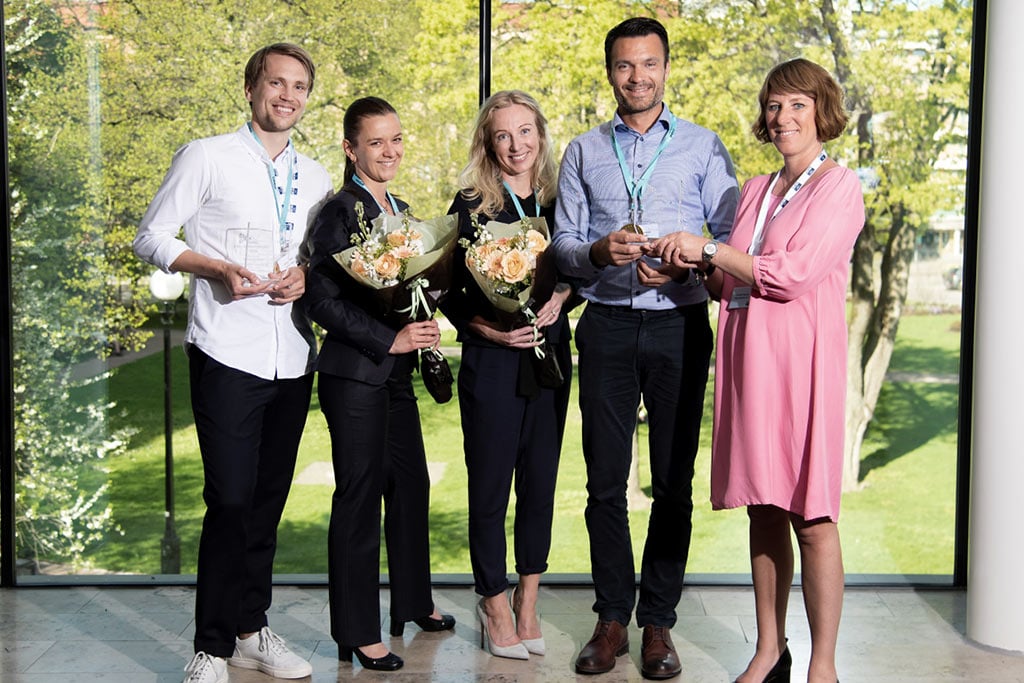 The fact that HR has gained an increasingly strategic and central role in organisations was clearly reflected in this year's Forum4IT in Gothenburg, where digital end-to-end solutions for HR now claim their natural place among other business systems.
Herbert Nathan & Co has, in collaboration with Forum4IT, traditionally award "Business System Implementation of the Year". This year, a new award was introduced for HR technology projects to highlight successful implementations of HCM (Human Capital Management) systems. The award recognises both the customer and the supplier and this year's winner is Nordnet, with their implementation of CatalystOne's HCM suite.
The jury's conclusion:
"Nordnet and CatalystOne Solutions receive the award for their successful implementation based on strong leadership and a thorough strategy. The project is charachterised by courage and conscientiousness, as well as a close partnership between customer and supplier. The project has thus succeeded in achieving the goals set, creating participation and dedication, and giving users an equally modern experience that they daily strive to offer their customers."
Jenny Garneij, Chief Human Capital Officer at Nordnet, received the award together with CatalystOne at Forum4IT in Gothenburg.
Hear Jenny's reactions to winning, and how she describes their selection criteria for HR system and the overall value of digitalising their HR processes (in Swedish);
- On behalf of Nordnet, we are extremely happy and proud to receive this prestigious award. Successful projects are always a team effort and the collaboration between us and CatalystOne has been absolutely amazing. We find ourselves, with our solution, able to create business value in terms of a better user experience and higher efficiency - and it is of course extra rewarding to receive proof that others can also see this value", says Jenny Garneij, Chief Human Capital Officer, Nordnet.
Clarity between customer and supplier, and a testament of customer satisfaction
"This award means a lot to me as HR Consultant and Project Manager, as it provides a testament that we at CatalystOne deliver successful projects with a high degree of customer satisfaction. We have a well proven project methodology that we have refined over time and as we see works. One of the success criteria we identified at the start of this project was "Clarity between Customer and Supplier" and I feel that we have had very good communication throughout the project. Generally speaking, I consider it important that we are responsive to each customer's starting point, while contributing with our best practices for the various HR processes, based on the overall experience we have from previous projects. I am very pleased and honored that we have been recognised with this award together with Nordnet's HR team!", says Laia Kjellander, responsible project manager from CatalystOne.
Efficiency of internal processes with greatly reduced administrative costs
During the solid jury presentation, Jenny and Nordnet described Nordnet's journey to digitize their HR processes and implement a new HCM system. To summarise the ambitions and benefits of the project:
"Nordnet wanted to achieve higher data quality, less manual processing, and increased security and efficiency in the handling of master data. Nordnet's own business is largely digital, so it became natural to choose a new HR system that could support the entire palette of HR processes. A system to grow in. As our ambition is to create a world-class user experience for our customers, the internal user experience is also a focus area. Previously, we had separate processes for performance reviews, goal management and salary reviews. Following our system implementation, we now have a system that links the processes and makes it more relevant, transparent and easily accessible to both managers and employees. By collecting all our processes in the same place, we have built a brand new user experience. Previously, we had to dig (deep) into old payroll systems and Excel sheets to get data that hopefully was reasonably updated. Now we can keep all data updated with minimal effort. With the system, several of our processes have become both faster and more cost effective. In a very short time, we can extract and compare data. By being able to do real 'people analytics' we can help managers make better and more precise decisions. Another advantage is that a pull effect has been created where the managers themselves see that the system can be used in different ways. The HR function's collaboration with several other functions has been strengthened as we together represent the creative process in how modules and functionality can be maximized", says Jenny Garneij, Chief Human Capital Officer, Nordnet.
Conditions for participation:
The project must have taken place at a company in Sweden with go-live in 2017.
The project is a new implementation of a commercial HR system.
The implemented HR system covers at least two HR processes in addition to Salary.
CatalystOne nominated two customers in the competition, Nordnet and SBAB, both of which went on to two of three finalists.
The jury consists of HR directors, the Swedish HR magazine Personal och Ledarskap's Editor in Chief, HerbertNathan & Co's Business Area Manager in HCM.
About HerbertNathan
HerbertNathan & Co is the market leader in Scandinavia for consultancy on business systems, financial systems, HR systems, payroll systems and decision support. HerbertNathan & Co is an independent company and works completely independent of system vendors and consulting companies with supplier interests and focuses exclusively on delivering high quality to our customers. We assist businesses and organizations in all phases of a business system project, both during procurement, implementation and after implementation. We provide information on how to achieve the most optimal business performance in connection with investments in business systems, financial systems, HR systems, payroll systems and decision support.
About CatalystOne
CatalystOne helps organizations develop their most valuable asset, people. We do this by offering a comprehensive HCM system that increases quality and safety in HR data and processes. Our customers can thus spend less time on administration and more time to achieve their business goals. Our customers are our most important source of success, where a digital HR system is experienced to be intuitive and satisfactory, with applications that are easy to implement. We are pleased and humbly proud that our customers give us the industry's highest ratings in customer satisfaction year after year. Our strong and value-based corporate culture is clearly reflected in the relationship between employees and customers and long-term partnerships. Our customers are found in most industries and consist of companies with both national and global establishment, with system users across the world's continents.