The rise in confirmed cases of Coronavirus (aka COVID-19) across Europe has led to a sudden and drastic shift in working conditions for many. With authorities around the world recommending remote work wherever possible, the everyday working lives of millions have suddenly changed. Now, more than ever before, businesses' ability to deploy flexible working conditions while trying to keep things running is being tested.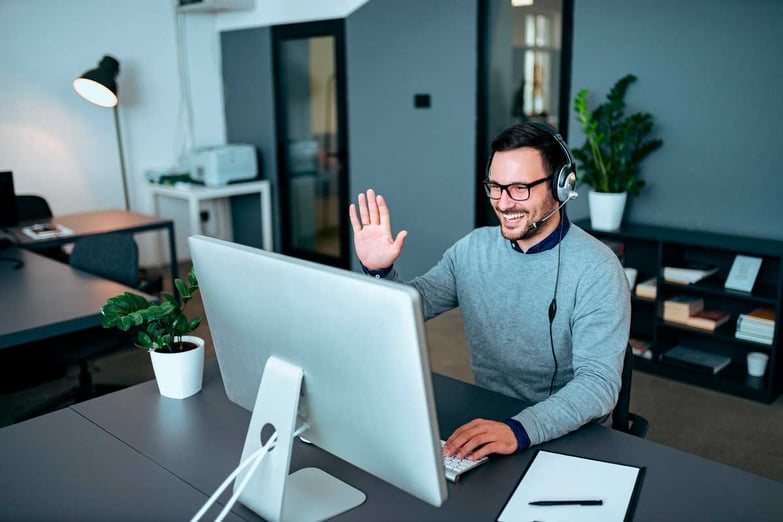 So, what can employers and HR professionals do to maintain a balance between workforce wellbeing and business interest? As ever, we at CatalystOne believe that putting humans first, backed by the technology available to you, is always the best business decision.
Communication is everything
Coronavirus or not, the key to remote work is clear communication with your staff. They need to know what is expected of them, how you will support them, and what level of flexibility with regard to hours, capacity and meeting normal demand you are offering.
Managers need to keep their teams in touch, both with the business and with each other. When people are hunkered down in their home offices, the need for human contact outside whatever household members are around them becomes hugely important.
Last year, a study of 2500 remote workers by online brand development agency Buffer found that loneliness was the second-most reported challenge. Loneliness can make people feel less motivated and less productive.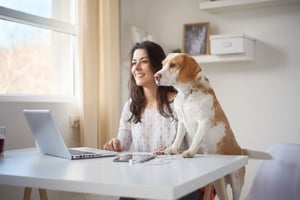 Try to hold short online meetings to kick off the day several times a week, if not daily, to find out what (and how) everyone is doing. Your team might even decide to take an online coffee break together. While this might sound like a lot of meetings, don't forget how many times a day you take a few minutes for a chat by the coffee machine, in the canteen, or just by turning to the person beside you. Your employees need to know they still have access to you and each other.
Digital proves its worth
For those who have already invested in digital working solutions, you will certainly be putting them through their paces today. But even those organisations that aren't so far along the path to digitalisation can make use of free or inexpensive online tools in the short term while making sure to document the challenges they face for use in future planning.
Just be sure to have your IT team investigate any new tools for security, privacy and compliance before sharing confidential information online.
Be prepared for actual absences
To stay updated on the state of your own workforce, it's very important that you make it as simple as possible for your staff to register absences and inform you of changes in their capacity. You will then have a good overview of your resources and will be better able to plan.
While the current action aims to prevent as many infections as possible, there will be people who do actually get sick. Make sure they know that they're not expected to work through their illness just because they're already at home. Be clear about your employees' rights to sick leave and track absences carefully and consistently.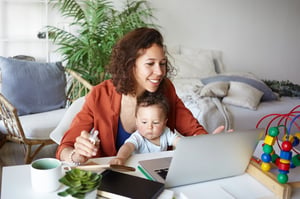 Be aware, too, that parents of young children will have to juggle work with childcare. Little ones need attention and interaction throughout the day, and older children need some supervision while they adjust to online schooling. Be as flexible as you can, and be transparent about your expectations and decisions.
Don't forget about data privacy!
GDPR is probably the last thing on your mind right now, but it's actually a critical issue. Home office networks are likely to be a lot less secure than your workplace one, and anyone who deals with sensitive employee data must remember that data protection laws still apply. All employee data, including absence records and health information, is protected under GDPR and needs to be treated with care. Ask your IT department if you have access to a VPN service for your home office and make sure all data is stored in a secure system.
Keep your workforce in balance
With this sudden shift in work style, your employees can easily find themselves with either too much or too little to do. Part of CatalystOne's suite of software includes a survey tool called Work Balance that helps managers understand which employees are out of balance. However, if you don't use our system, or haven't added this module yet, you can still apply its principles to help understand your employees' remote working balance. On a regular basis, we like to ask staff: "How much time do you feel you have?" and "How balanced do you feel your work challenges are?"
A good working environment is key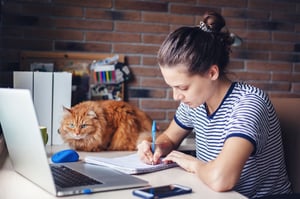 Sitting on the couch in your PJs with a laptop on your lap might sound like fun for a day or two, but in the long run it can lead to loss of motivation and is an ergonomic disaster waiting to happen. You should always ensure your employees have the right equipment, both IT-related and for good ergonomics. Offer them help to make it happen!
Also, for employees who don't have the space or peace available at home to work productively, make sure you offer alternatives such as (quarantine-approved) co-working spaces or isolated offices and seating in your usual location.
Last but not least, bring a little cheer to a tough situation
You might like to take a leaf out of the CatalystOne playbook: our People and Culture team has offered a prize for the best home office selfie! You might also host an online Friday beer or pizza party. Build a playlist together for background music.
That's what is most crucial in these uncertain times: when you keep spirits high, a new kind of normal, however long it needs to last, won't be far behind.