Press-release, Oslo 01 March 2023
CatalystOne Solutions, one of the leading suppliers of HR-software in Scandinavia, have today released a new module of their HR-system suite, which enables managers to create effective and structured 1:1 meetings in a quick and easy way. The solution, called One to One, helps both the manager and the employee to prepare for the meeting and ensures follow-up and registration of to-dos, so everyone gets the optimal outcome from the meeting.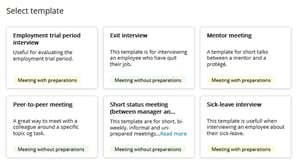 One to One allows both managers and employees to invite to a meeting, based on a series of topic templates, such as check-ins, exit interview, status meetings etc. Each topic template contains some suggested talking points which can be used to structure the dialogue. Furthermore, the template can contain preparation questions which can ensure both parties are prepared for the meeting.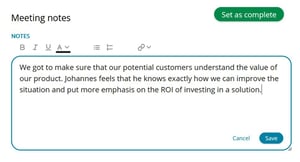 The solution enables the person who initiates the meeting to take notes during the meeting, which will be shared afterwards with the participants and provide transparency of the meeting.
Furthermore, One to One allows the registration of to-dos and actions with a clear owner, which was agreed during the meeting, which ensures that action is taken afterwards.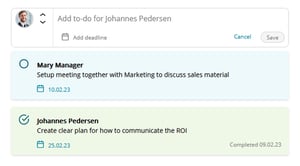 Finally, it enables the manager to keep track of the meetings previously held with the team, to ensure that no team member is overdue for a meeting – while HR can view the overall activity level of 1:1 meetings in the organisation.
Performance management has changed, and so must the tools to support it.
The classic concept of Performance Management has developed and evolved over the last many years. Goals and objectives are no longer evaluated retrospectively but are constantly updated and adapted to the changing circumstances and situation. This have resulted in more continuous dialogue between managers and employees, which have changed the need for yearly performance reviews, into more frequent check-in's or status meeting between the manager and the employee.
"We are very excited to help and support our customers during their continuous performance management process, by providing them with the tools they need to create well-prepared and effective meetings." says product manager at CatalystOne Solutions, Jan Otto Holm.
Already generating value for the first customers
The new module is already used by Banqsoft, a Nordic-based market leader offering financial software. Their HR Operational Manager, Katrine Karlsen, says "Keeping a continuous focus on employee engagement and development is vital for us in Banqsoft. One to One has helped us to better facilitate productive conversations in an easy and intuitive way. With customisable templates and roles, we have designed a process that works for us and our structure, giving our team leads and managers the flexibility to initiate check-ins when it suits them and their team. Being able to add and keep track of to-dos after each meeting is also a feature that we love!".
---
Who are CatalystOne Solutions?
CatalystOne Solutions is a fast-growing software company that specialises in software and services for digitalising HR and management processes. They develop software that can elevate and transform HR from people administration to a strategic HR function, enabling positive relations between your HR, employees and managers.

They are one of the leading vendors within HCM (Human Capital Management) software and provide a full suite of cloud-based and user-friendly solutions for processes such as HR master data management, performance management, talent management, and learning management.

They have offices in Oslo, Stockholm, Copenhagen, Silkeborg and Sandefjord.