CEO of CatalystOne, Avtar Jasser, reflects on 2019 and looks ahead to the coming year – and decade – in HR tech.
Changes and developments in HR and HR tech in 2019
HR is about gradual change, and the really noticeable changes happen over longer periods than a single year. While larger companies have been adopting HR systems over the past few years, it's now time for smaller companies to act on their need for proper HCM platforms. We also see that bigger organisations are beginning to understand that a solid platform for HCM doesn't always fit with the point solutions they have in place or are considering. If this sounds familiar, it's worth investigating systems that are specifically built to support integration.

The number of system vendors has increased lately, which means change leaders in the HR space are somewhat spoilt for choice. This means you need to be very clear about what you need, above and beyond the technology itself. Think about non-functional requirements like security and user experience, for example.
Something we're seeing more and more, which we think is very smart, is that HR project managers and change managers are becoming more specific about what kind of vendor they want to do business with. Your HR system vendor will be a partner, so it's vital that you connect well in culture and work style. Strong customer service and implementation support should be considered crucial selection criteria.
We've seen how HR has been steadily taking on a more strategic role on the business side and how it's more likely to have a voice in planning a company's direction. This means HCM and the systems that support it are finally being acknowledged as need-to-have rather than nice-to-have. To achieve strategic goals, and attract and retain talent in the current age, organisations need both to digitise and to provide a great employee experience.
Looking ahead to 2020 and beyond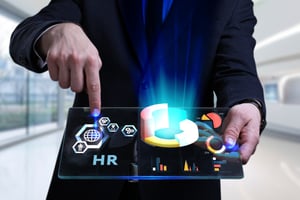 As the job market becomes more competitive for employers, and Millennials broaden their education and experience, employee engagement and experience is going to become very important for businesses to get right. This means that companies that offer a superior experience throughout the entire employee lifecycle will be seen as much more desirable employers.
With this in mind, I think it should be a top priority for HR professionals to put a strong focus on the value an HR system will create, rather than just what day-to-day problems it solves. This means committing more resources to change management to make sure the changes the introduction of an HR system will bring about really come to fruition.
Technology can do great things but focusing on the practicalities alone without an emphasis on good change management does not allow digitalisation to reach its full potential. In that way, technology can actually be a distraction from the core changes you're trying to make. Of course, it can be very difficult to quantify these kinds of changes, but that just means there needs to be more focus on measurement and using the resulting data to demonstrate value.
CatalystOne in 2020
Our organisation has grown very quickly the last couple of years, both in terms of employees and customers. It's a top goal for us in the coming year to deliver even better quality and services to our customers, both new and old.
As always, we look forward to seeing our customers' businesses grow alongside ours in the years to come.
Welcoming new customers
The last couple of months have been busy ones for us, and we're so happy and proud to welcome so many new customers, and to celebrate some extensions to what we're already doing with existing ones.
We'd like to extend a warm welcome to our most recent customers to the CatalystOne family:
We also added Eiendomsmegler Vest to our Sparebanken Vest instance and extended our offerings with:
We look forward to working with you all in 2020, as well as with all our existing partners and customers.